Affordable Flooring Installation Service in Fort Lauderdale
Are you looking for a flooring installation company for your home or place of business? Have you been pulling quotes and wondering how to get floor refinishing done without breaking the bank? Do you need carpet installation or epoxy floor installation? Do you need waterproof flooring? Contact Broward Contractors today. With over thirty years of experience, we are the premier flooring installation company in Fort Lauderdale, and ready to meet all of your needs.
If you're a business owner, don't delay your flooring replacement or installation. The quality of your flooring is one of the first things any prospective client will notice when entering your place of business. Don't let uneven, old, cracked or ugly flooring dissuade them – take every edge you can get!
Homeowners, ask about waterproof flooring or epoxy floor installation for high traffic areas or the garage and take the headache out of common spills. Or, ask us about carpet installation to give any room in your house a soft, plush base to help make it your "home, sweet home." If your existing floor is looking a bit under the weather, ask us about pricing for floor refinishing and save yourself the pain of getting an entirely new floor.
Broward Contractors is the most professional and affordable flooring installation company you'll ever use. Get in touch with us today for a free quote.
Epoxy Floor Installation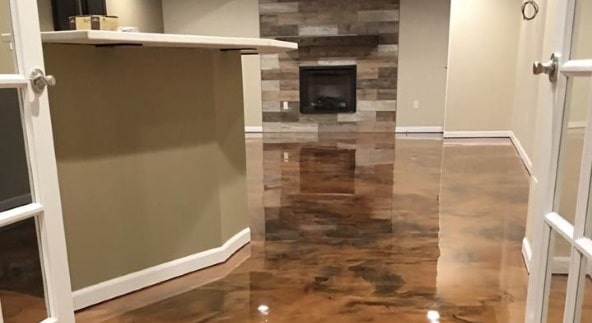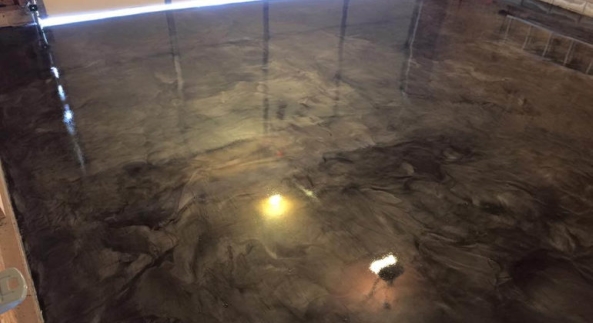 If your Fort Lauderdale business features an industrial area or very high traffic rooms, you may be interested in epoxy flooring. Easy to care for, oil and water resistant and excellent for protecting existing concrete surfaces, Broward Contractors can help you with an epoxy floor installation, bringing a brilliant shine to any room. If you have been considering floor refinishing, give us a call!
Consider the benefits of epoxy flooring installation if you're on the fence about choosing it as a flooring solution for your business:
Enduring

– Epoxy resists wear and saves you money by lowering maintenance costs

Strong

– Once set, epoxy is strong and resists chemical breakdown

Fast

– Epoxy flooring can be installed quickly, reducing business downtime

Easy To Clean

– Floors covered in epoxy are not porous and can thus be cleaned quickly and easily

Brilliant

– Epoxy floors shine and come in a variety of colors

Safe

– Certain coating options can reduce the chance of slippage, helping protect your employees and prospective clients alike
Water Proof – Using epoxy makes for waterproof flooring, preventing water damage that might have otherwise occurred
Carpet Installation
Nothing beats the plush, comforting feeling of carpet beneath your feet. Whether your home or business needs new carpet, give Broward Contractors a call. Our decades of experience in the carpeting industry makes us the premier flooring installation company for any of your carpet installation needs in Fort Lauderdale.
Carpeting is perennially popular choice in homes for a variety of reasons, including:
Warmth

– In colder parts of the globe, carpet holds warmth in rooms longer

Cushioning

– Plush carpet helps soften falls, reducing the chance of injury, especially for small children

Noise Reduction

– The nature of carpet allows it to absorb sounds, reduce the sound of footfalls and reduce noise throughout the rest of the house or building

Air Quality

– Carpet fibers can trap pet dander, dust and pollen and keep it from being kicked back up into the air, helping you breathe easier wherever it is installed

Versatility

– Carpet comes in a huge array of styles and colors, meaning you can get it to match just about any color scheme and furniture setup with ease
A Spectrum of Choices
Broward Contractors uses a variety of flooring solutions, including epoxies, carpeting and wood. We are committed to providing you the highest quality service around, and that extends to the quality of our products. Our lineup of quality materials includes:
Natural Stone

– Make any room instantly more upscale with an array of stone types to match your budget. Match your decor as well, as our stone comes in a variety of colors and finishes to suit your needs.

Solid Hardwood

– No one can deny the elegance of hardwood flooring, and Broward knows it. Our selection of hardwood is designed to fit any budget and comes in a swath of colors to make sure it sets off the effect it deserves.

Tiles

– Durable and available in a dizzying array of styles and colors, tiles can be the perfect touch to set off the effect of any room in a home or business, and are water resistant.

Laminate

– Ideal as a stand in for hardwood, laminate flooring is beautiful on a budget and just as varied in tones and styles.

Carpet

– Soft, plush, available in any color and purpose-built to help any room feel cozier, carpet is the ideal choice for any home looking to feel more welcoming.

Vinyl Planks

– The tacky look of linoleum is long gone with vinyl planks, designed to flawlessly mimic the look of other materials when budgets are at their tightest.